Cinco de Mayo Chili | Lone Star Mercedes Cooking Healthy & Fresh


Happy Cinco De Mayo! Cinco de Mayo is celebrated on May 5th both in Mexico, mainly in Pueblo, and in the U.S. Both countries have different origins for their reasons for celebrating this day. In Mexico, this holiday celebrates the Battle of Pueblo in the state of Pueblo, which ended on May 5th, 1862 with the Mexican army defeating the French. We are celebrating by making a hearty instant pot of chili. Buen provecho!
Cinco de Mayo Chili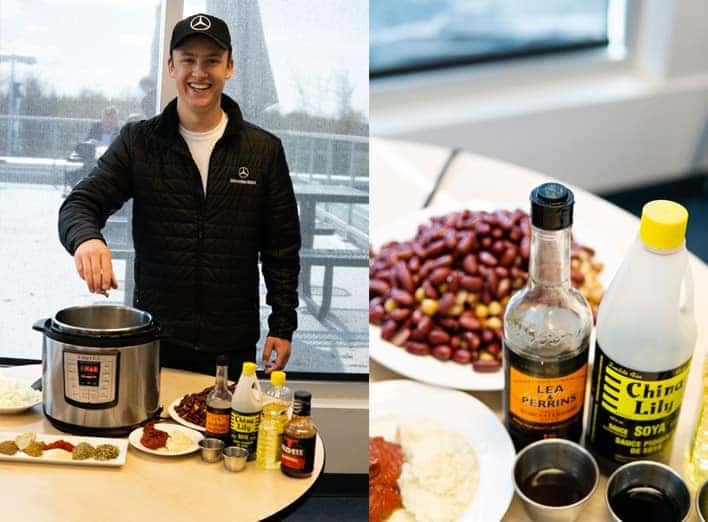 Ingredients
1 ½ lbs ground beef

1 tablespoon olive oil

1 medium onion diced

6 cloves of garlic minced

50ml tomato paste

2 cans of kidney beans

1 can mixed beans

400ml beef broth

1 tablespoon Worcestershire Sauce

1 tablespoon soy sauce

1 can of 28oz crushed tomatoes

3 bay leaves
Spices
1 tablespoon onion powder

1 tablespoon garlic powder

½ tablespoon jalapeno

1 tablespoon ground cumin

1 teaspoon dried oregano lteaspoon dried thyme

1 teaspoon smoked paprika
Instructions
Add all the spices and dried herbs in to a medium bowl and whisk together. Set aside.

Add oil to Instant Pot. Once oil is hot, add beef. Stir beef with a wooden spoon for 5-7 minutes until beef is browned.

Add diced onion and minced garlic and cook for 2 minutes.

Add the mixed spices to the beef, stir and cook for 1-2 minutes

Add 1/3 cup of the beef broth. Scrape the bottom of the pot with a wooden spoon. Cook the beef in the broth for 5 minutes.

Add the tomato paste. Stir to combine

Add the beans. Stir gently to combine

Combine and whisk the remaining beef broth, Worcestershire, and soy sauce in a small bowl. Add the mixture to the pot and gently stir.

Add the crushed tomatoes on top and stir gently.

Add the bay leaves.

Close the Instant Pot lid and use the manual setting for 35 minutes.

After the cooking time is up, open the lid and discard the bay leaves. Stir before serving.

Serve hot with garnishes.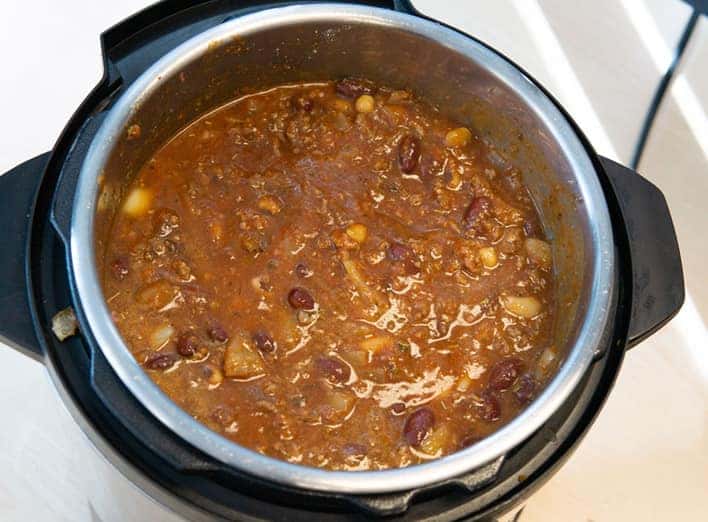 Garnish and serve with some or all of the following. 
Sour Cream

Sour Cream

Sour Cream

Tortilla chips

Jalapeno pepper diced and seeded

Cheddar cheese

Avocado

Parsley chopped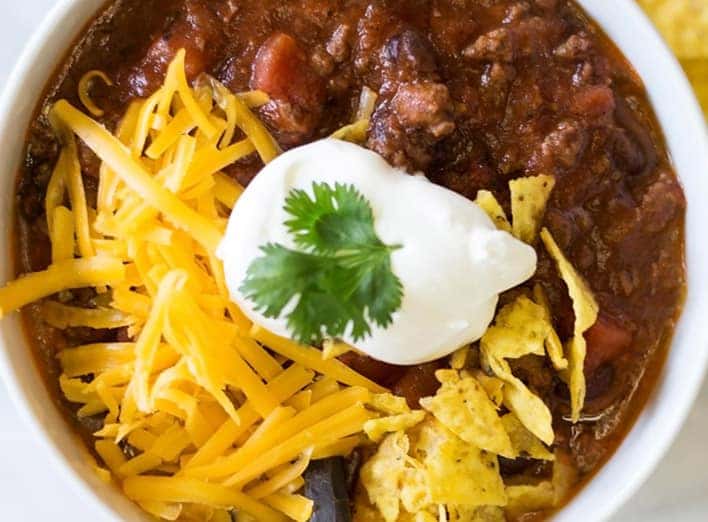 © Lonestarmercedesbenz.com. Photographs are copyright protected. Sharing of this recipe is both encouraged and appreciated.